Comments for
How Well Do You Know: Tom Cruise Movie Roles
---
Users are allowed and even encouraged to submit specific feedback about quizzes.
Please keep in mind that some of these comments may spoil individual quiz questions.


Looking for the quiz that goes along with these comments?
Find it
here.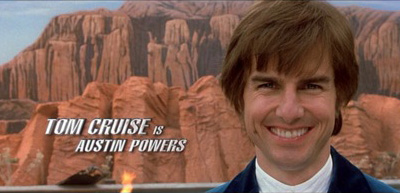 Comments are the sole responsibility of the person posting them.
By posting, you agree not to post comments that are off topic,
defamatory, obscene, abusive, threatening or an invasion of privacy.
Violators may be banned.
---
Comments


Answers:
1.
Lt. Daniel Kaffee
Top Gun
A Few Good Men
War of the Worlds
Taps
2.
Lestat
Valkyrie
Interview with a Vampire
Legend
Vanilla Sky
3.
Lt. Pete Mitchell
Legend
Taps
The Last Samurai
Top Gun

By way of explanation.....
You are probably more familiar with his other name -- Maverick.

4.
Mitch McDeere
Lions for Lambs
A Few Good Men
The Firm
Far and Away
5.
Stacee Jaxx
Rock of Ages
Magnolia
Days of Thunder
All the Right Moves
6.
Vincent
Knight and Day
Magnolia
Collateral
The Last Samurai
7.
Cole Trickle
Cocktail
Rain Man
Days of Thunder
The Color of Money
8.
John Anderton
Minority Report
Taps
Valkyrie
War of the Worlds
9.
Joel Goodsen
All the Right Moves
The Firm
Tropic Thunder
Risky Business
10.
Brian Flanagan
Far and Away
Born on the Fourth of July
Cocktail
Rain Man
11.
Frank T.J. Mackey
The Outsiders
Magnolia
Knight and Day
Top Gun
12.
Les Grossman
Risky Business
Vanilla Sky
Tropic Thunder
Rain Man
13.
Charlie Babbitt
Rain Man
Cocktail
Born on the Fourth of July
Eyes Wide Shut
14.
Nathan Algren
Mission: Impossible
Cocktail
The Last Samurai
Taps
15.
Ray Ferrier
War of the Worlds
Knight and Day
Collateral
Lions for Lambs
16.
Ron Kovic
Rain Man
Born on the Fourth of July
Valkryie
The Color of Money
17.
Vincent Lauria
The Color of Money
Minority Report
Vanilla Sky
Tropic Thunder
18.
Dr. Bill Harford
Vanilla Sky
Lions for Lambs
Eyes Wide Shut
Magnolia
19.
Ethan Hunt
Proceed...
directly...
to...
Mission: Impossible
20.
Jerry Maguire
Top Gun
Mission: Impossible
A Few Good Men
None of the Above

By way of explanation.....
Just in case you missed it, the correct answer is "Jerry Maguire."