Comments for
How Well Do You Know: The Simpsons: Selma's Choice
---
Users are allowed and even encouraged to submit specific feedback about quizzes.
Please keep in mind that some of these comments may spoil individual quiz questions.


Looking for the quiz that goes along with these comments?
Find it
here.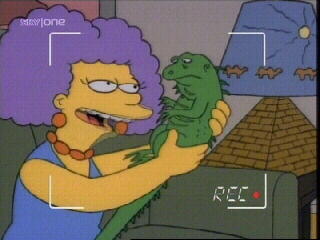 Comments are the sole responsibility of the person posting them.
By posting, you agree not to post comments that are off topic,
defamatory, obscene, abusive, threatening or an invasion of privacy.
Violators may be banned.
---
Comments


Answers:
1.

Lance Murdock just jumped sixteen blazing school buses, and now he's going to Duff Gardens. Of the following, which is not one of the many attractions at the amusement park?
the Hangover
the Whiplash
the Washing Machine
the Beerquarium
2.

The death of which Bouvier aunt postpones the Simpsons' trip to Duff Gardens?
Great Aunt Hortense
Great Aunt Gladys
Great Aunt Mabel
Great Aunt Bertha
3.

Great Aunt Gladys is really gone, but for Homer her legend will live on:
the legend of the dog-faced woman
the legend of the pig-faced woman
the legend of the horse-faced woman
the legend of the rat-faced woman
4.

Marge confuses her own childhood with a scene from the movie:
Ordinary People
The Parent Trap
The Prince of Tides
Hannah and her Sisters
5.

Before getting to her video will, Great Aunt Gladys would like to begin by reading a passage from:
W.H. Auden
Edna St. Vincent Millay
Robert Frost
Sylvia Plath
6.

Of the following, who is not included in Great Aunt Gladys' collection of potato chips that resemble celebrities?
Maurice Chevalier
Rita Hayworth
Otto von Bismarck
Jay Leno
7.

Selma takes Gladys' advice not to die alone to heart, but later imagines having several unattractive children with:
Groundskeeper Willie
Barney Gumble
Comic Book Guy
Hans Moleman
8.

And the only sperm donor in Springfield appears to be:
Groundskeeper Willie
Barney Gumble
Comic Book Guy
Hans Moleman
9.

Homer wakes up dead, or at least grotesquely ill, due to eating an expired:
sandwich
donut
tuna melt
turkey
10.

Selma, seen here through beer goggles, takes Bart and Lisa to Duff Gardens. Which is not one of the Seven Duffs?
Tipsy
Chatty
Surly
Remorseful
11.

Lisa is dared by Bart to drink the "water" on the Duff Gardens canal ride. After being found swimming naked in the Fermentarium, Lisa proclaims she is:
a Child of Voodoo
being stalked by duck assassins
the Lizard Queen
assuming a gaseous form
12.

Homer has gotten well enough to watch an erotic movie with Marge. "Homercles cares not for _______"
Flanders!
pants!
towels!
beans!